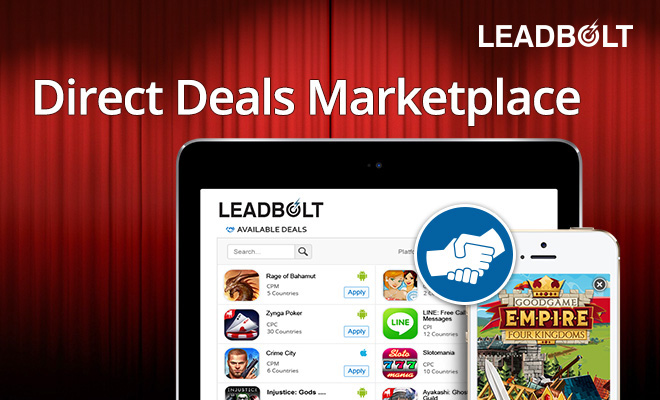 Leadbolt Direct Deals Marketplace is a mobile advertising exchange platform that allows developers and advertisers to connect with one another directly in regards to purchasing and selling mobile media. Most developers monetise their free apps by adding advertising, with these opportunities usually sourced through platforms such as Leadbolt.
The service is free for publishers who can access detailed information regarding advertiser information, apply for deals, utilise 24/7 customer support, and instantly activate campaigns that best fit with app goals. By 2016, the app economy is set to reach $143 billion, with ad revenue in 2015 set to reach $34 billion. The Leadbolt Direct Deals Marketplace was created specifically with this huge market in mind.
The platform is open to all genres of apps, does not discriminate against size of company, includes video ads, and excels in customer experience. The marketplace has a click through rate of over 20% which is competitive when compared to industry. The Direct Deals marketplace has helped advertising company Movile achieve 18x more traffic than it did without the use of the platform. In 2015 Leadbolt Direct Deals Marketplace has been recognised as an ABA100 Winner for Best New Product in The Australian Business Awards.