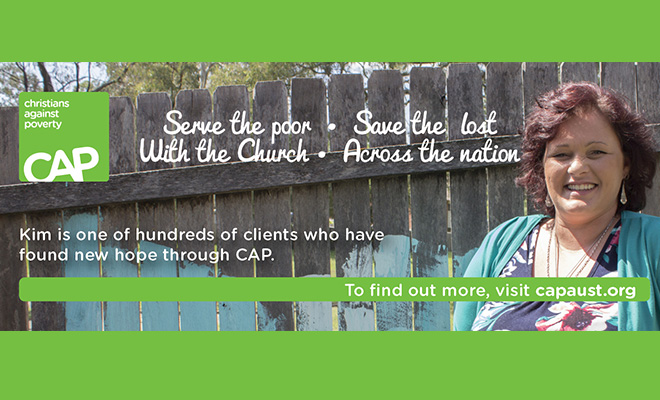 Christians Against Poverty has been recognised for Outstanding Achievement in The Australian Charity Awards 2015.
In Australia there are 47 CAP debt centres in operation, with 400 additional churches across the country trained to run the CAP Money Course. This course teaches people how to manage their money more efficiently.
John Kirkby decided to leave his career in finance and use his knowledge to start up Christians Against Poverty in 1996. The organisation began by helping out families across the UK who were struggling with debt. CAP now operates in Australia, Canada, New Zealand and the UK.
The association aims to relieve people in Australia from poverty, provide personal finance education, and raise awareness in regards to poverty in Australia by encouraging others to help out.
After a client calls CAP for assistance, they are visited in their home by a CAP debt centre manager. The manager works with the client to provide ongoing support and collect financial details which are sent back to the head office. Financial experts then work out a budget with the client, and contact all creditors to arrange a fair repayment system.
Clients are then given a CAP account in which they deposit money in – CAP employees then distribute this money to pay the debt on client's behalf. CAP then works closely with the client until they become debt free.
"Christians Against Poverty are proud to accept The Australian Charity Awards 'Outstanding Achievement Award' on behalf of the hard working staff and volunteers from across our nation.
"This year alone, we have seen over $5,000,000 cleared from client debt, $2.5 million dollars of debt paid off by clients, 192 debt free families and our 10,000th CAP Money delegate since 2009.
"We are encouraged by this recognition as we move forward and continue providing the highest quality free debt help and debt prevention services to Australian families." said Ross Buttenshaw, Chief Executive Officer, CAP Australia.
For more information on The Australian Charity Awards go to www.charityawards.com.au